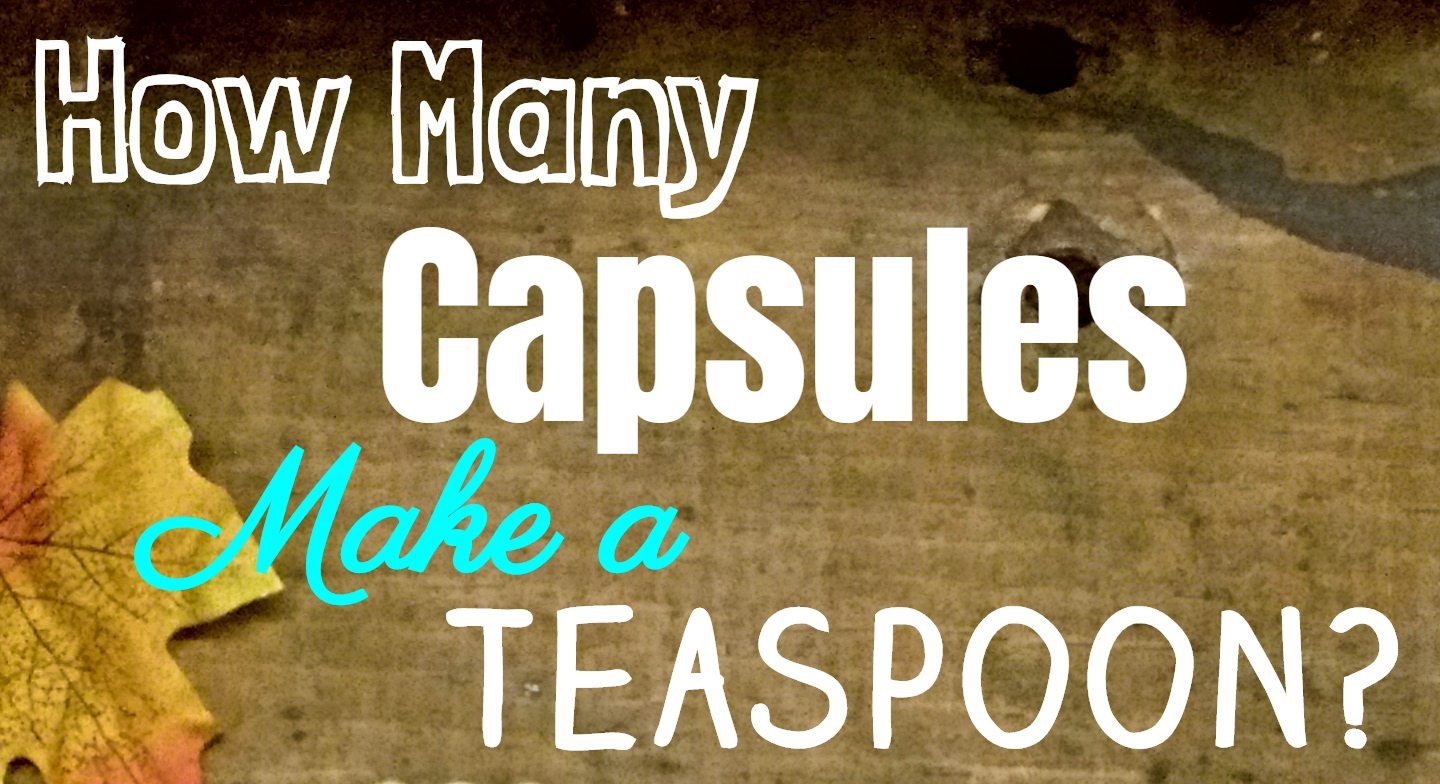 Figuring out how much can fit in a capsule can be confusing.  There's charts available and they complicate matters by discussing powder density and its relationship to how much a capsule can hold.  While this is important information when you are calculating milligrams, when calculating teaspoons, it's not necessary.
Here's Why..
A teaspoon is a measure of volume, not weight.  Capsule sizes are based on volume, so a teaspoon's volume will remain the same no matter what your powder's density is.  A teaspoon of a fluffy powder will make the same number of capsules as a teaspoon of dense clay, but they will differ in milligrams (weight/volume).  The fluffy powder might contain 2000 milligrams in a teaspoon, while the clay might have 4000 mg.
If this is difficult to understand, here's another way of looking at. Capsules have a volume capacity range, for example, a size 000 capsule can fit 1600 mg of a dense powder, yet only 650 mg of a fluffy powder.
So, How Many Capsules Make Up a Teaspoon?
For capsule size 000, it's 3 capsules.
For capsule size 00, it's 5 capsules.
For capsule size 0, it's 6 capsules.
For capsule size 1, it's 9 capsules.
For capsule size 2, it's 12 capsules.
For capsule size 3, it's 16 capsules.
For capsule size 4, it's a whopping 19 capsules!
Scroll down to see the handy infographic.
You can try all seven gelatin capsule sizes with this Handy Capsule Kit available on Amazon HERE.
Have all capsule sizes readily available to you at a moment's notice.
Includes the rare sizes that are appropriate for small children and small pets.
Every household should have one of these kits!
– This kit is great for those who only need to use capsules a few times a year.
– For those who have to swallow a bad tasting herb or medicine.
– When you need to hide medicine in you dog's food.
Cost saving & convenient!
You'll get one dozen (12) gelatin capsules in EACH size (from smallest to largest) 4, 3, 2, 1, 0, 00, and 000.
All capsules are made from high quality BSE-free 100% bovine pharmaceutical gelatin, and both Kosher Pareve and Halal certified.
Comes with free sizing and dosing charts.
This handy reference guide will help you:
– When you have to take a teaspoon of something, you'll quickly know how many capsules (of any of the 7 sizes) you'll need to take.
– If you need to take specific milligrams of something, you'll quickly know which size capsule to use and/or how many.
Each size comes individually packaged in 3″ x 3″ zip-lock bags.
Capsules are manufactured in the USA.