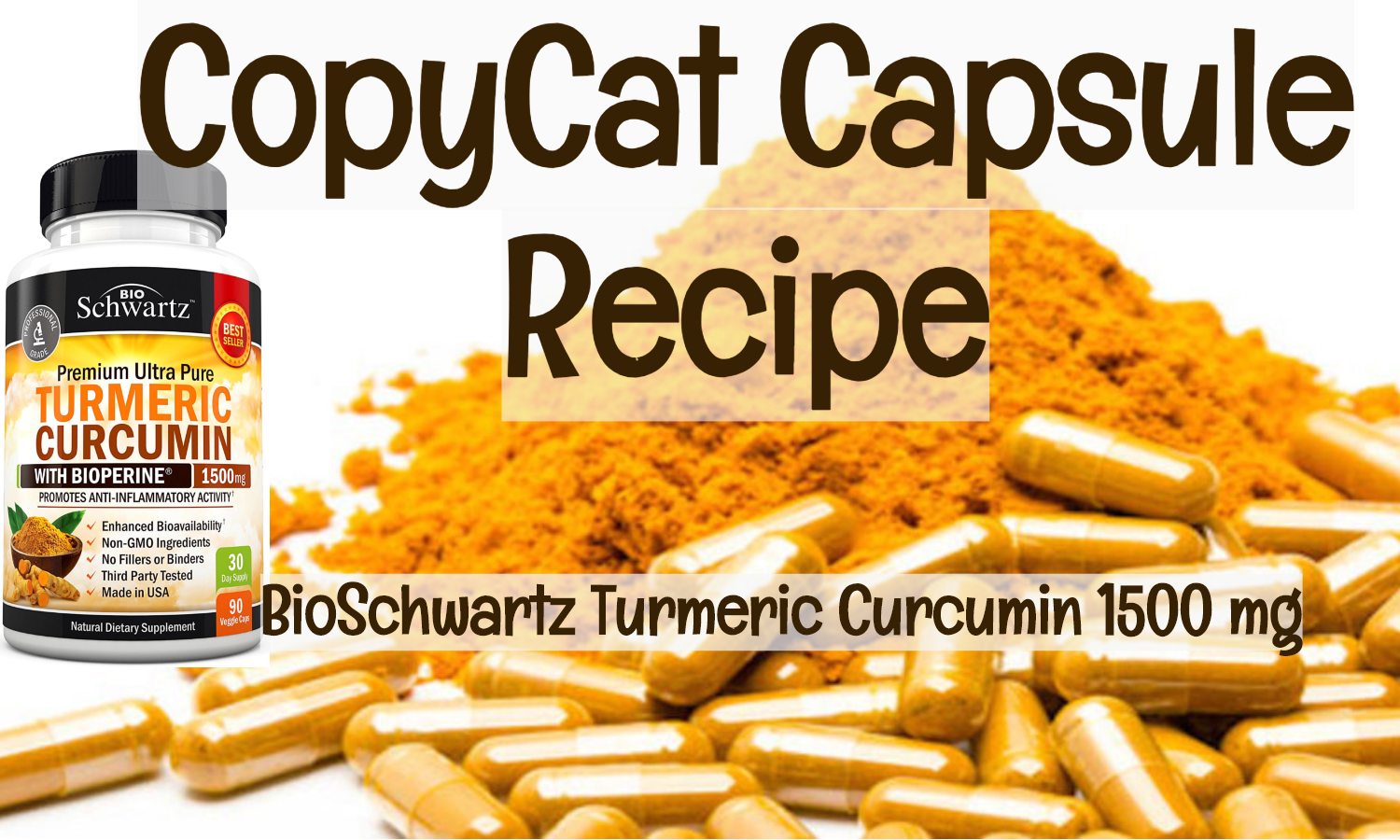 Get a year's supply of BioSchwartz Turmeric Curcumin with Bioperine for only $77.  That's a 70% savings!
How to Save Big Money on Your Herbal Supplements
Did you know you can easily fill your own capsules?  Yes, you.  Even my mother does it and she's 81 years old with arthritic fingers.
Filling your own capsules is not only easy, but very cost-efficient.  The first time you do it, it might get a little messy.  The second time, you'll get the hang of it.  By the third round, you'll be zipping through the process like a pro.
There are "machines" out there to help you get it done.  They hold all the capsules in place while you spread the powder, then cap them.    There are several types of filling machines you can choose from, each have their benefits and pitfalls. We'll get into that a bit later.
Why BioSchwartz Turmeric Curcumin with Bioperine?
BioSchwartz (formerly known as Schwartz BioResearch) is one of the top names for quality supplements and it's no surprise that their Turmeric Curcumin formula is the #1 best seller on Amazon.
If you browse this product's 10,000+ Amazon reviews, you'll see that this formula is the best for inflammation, aches & pains, sciatica, autoimmune diseases, and much, much more.  The price isn't bad either, it's around $19 a bottle for 90 caps (a month's supply).  Customers have posted before & after photos of the almost miraculous results they've had with this herbal blend.
Same EXACT Formula, Just Cheaper!
I'll show you how to make the same (or maybe better) formula with this copycat recipe.  All the ingredients and materials are readily available and I'll guide you through it.  I've copied it milligram for milligram and you can easily reproduce this amazing formula.
After this, you might even get inspired to try new formulas and soon realize that you'll never have to pay high prices for herbal capsules again!
Let's analyze what's in BioSchwartz Turmeric Curcumin 1500 mg.
The ingredients are simple, there's only 3!  They use no fillers and they are packed in size 0 veggie caps.  There's 90 capsules in a bottle and the recommended dose is 3 capsules per day.  For an average user, that's a one-month supply.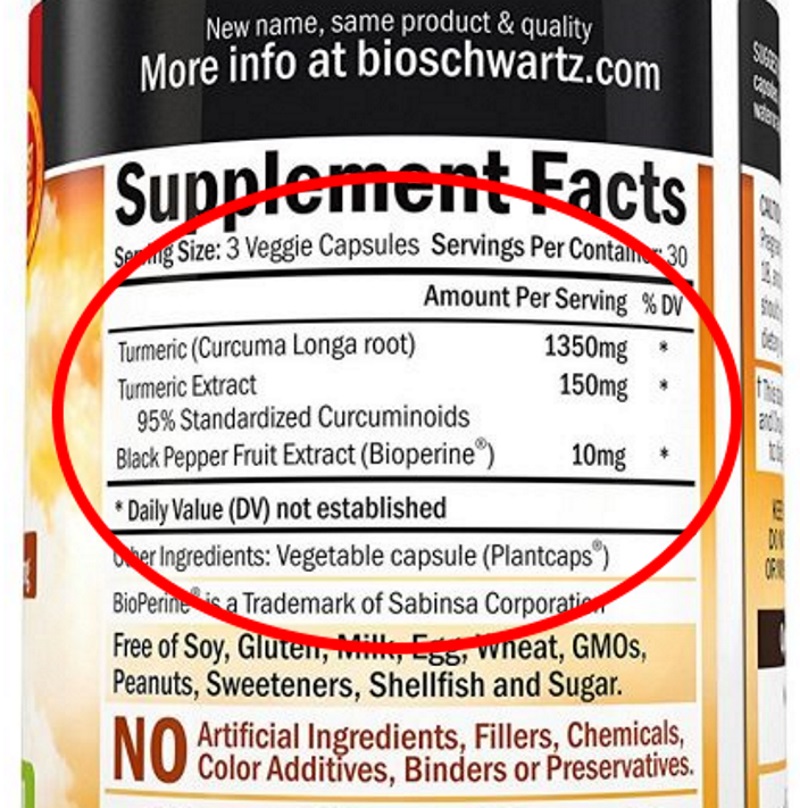 The bottle label states the ingredients for 3 capsules as:
Turmeric (Curcuma Longa root) 1350 mg
Turmeric Extract 95% Standardized Curcuminoids 150 mg.
Black Pepper Fruit Extract (BioperineR) 10 mg
Divide by 3, and each capsule contains: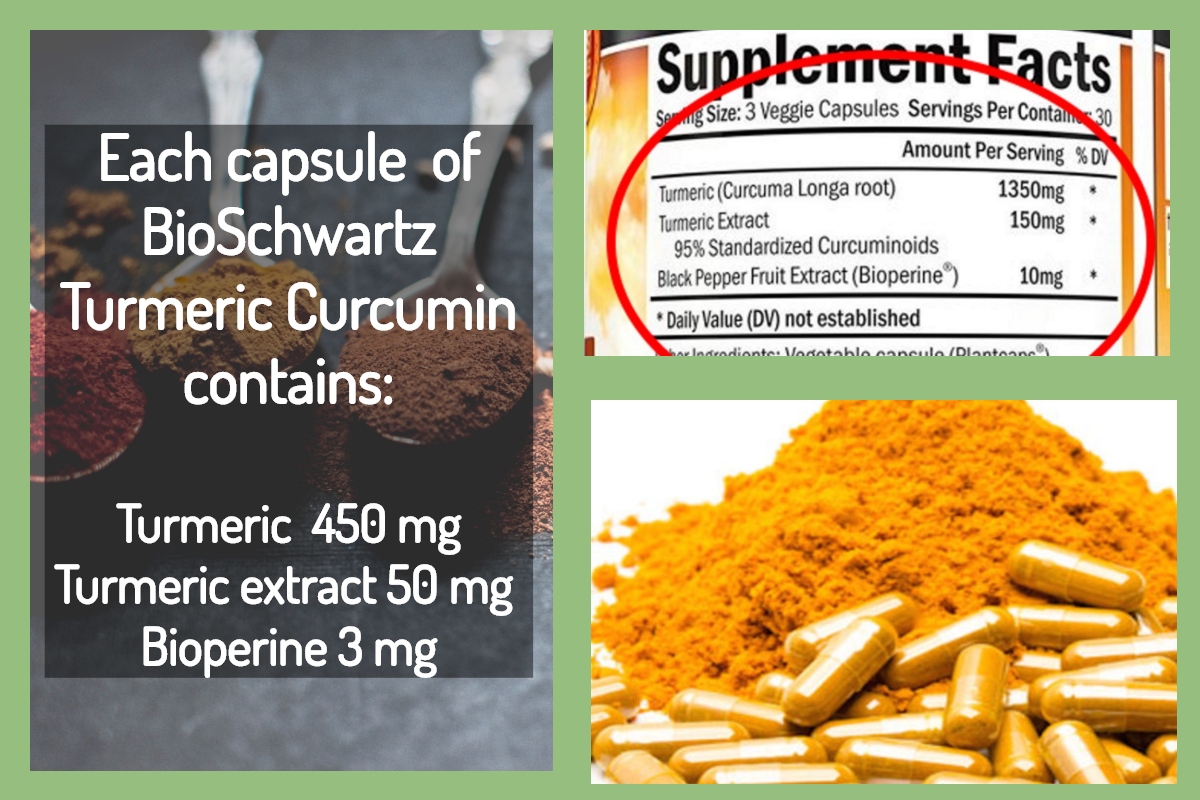 Turmeric  450 mg
Turmeric extract 50 mg
Bioperine 3 mg
Next, Gather Your Cost-Saving Ingredients
I was able to find all the ingredients on Amazon for reasonable prices.  You might be able to do better elsewhere.  For the turmeric, the price was for certified organic, so right there, that's an improvement over BioSchwartz.
I've listed enough for a year's supply or 1000 capsules.  If you feel inspired, you can make them all at one sitting and with the right machine, could take you an hour.  The capsules can be easily stored for that period of time, away from heat and light.
Materials You Will Need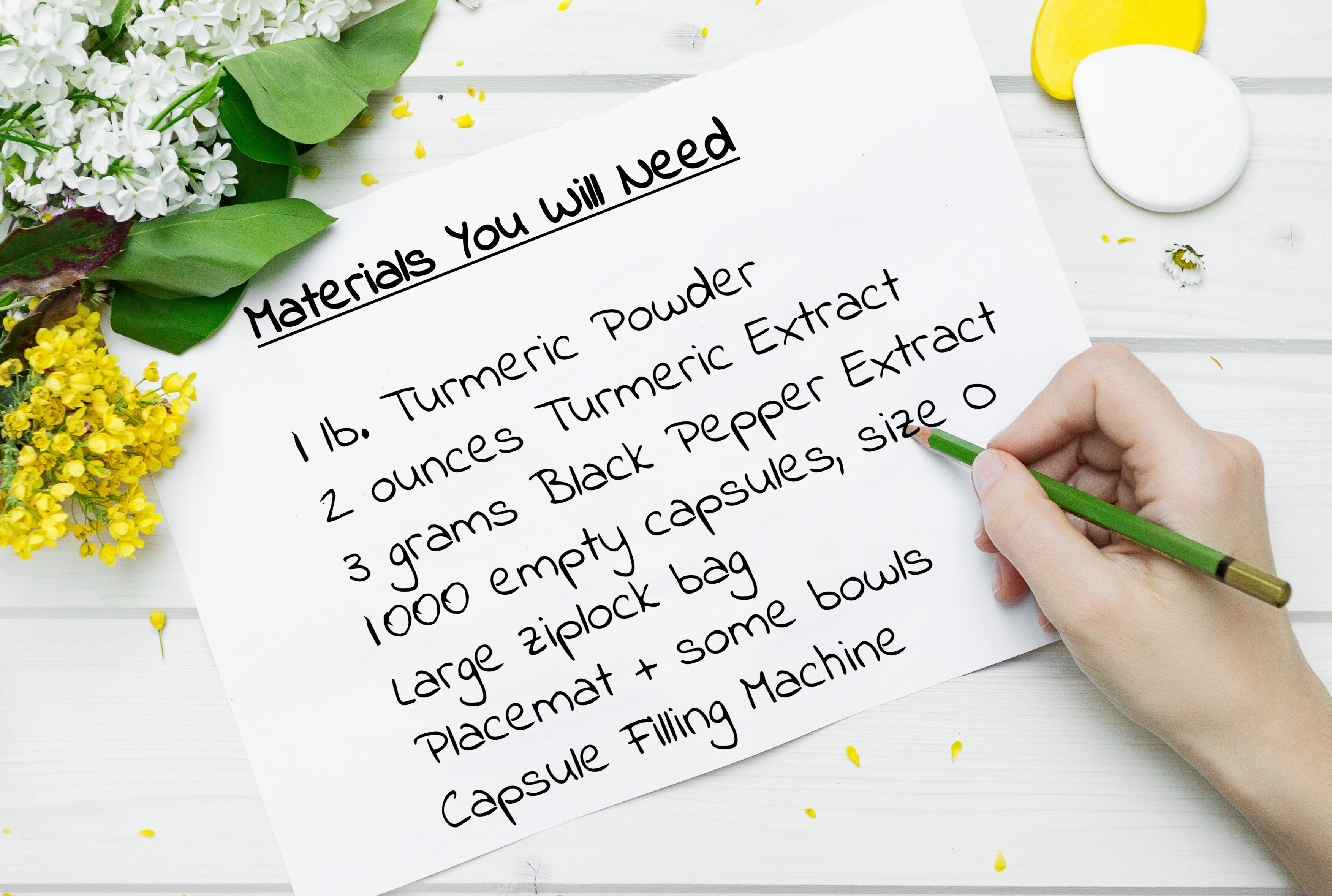 1 lb. of Turmeric (Curcuma Longa root) Powder      $11 on Amazon
2 ounces of Turmeric Extract 95% Standardized Curcuminoids    $25 on Amazon
3 gr of Black Pepper Fruit Extract (Bioperine) (Bioperine is a brand, you can find other Piperine products that are of similar grade and quality)    $30 on Amazon
1000 empty capsules, size O   $11 on Amazon
A large bag or container to mix your powders

Total cost to make year's worth of capsules: $77

I didn't include the cost of a capsule filling machine because you might already have one.   You can pick one up for around $20.
Not Too Much Time or Effort Needed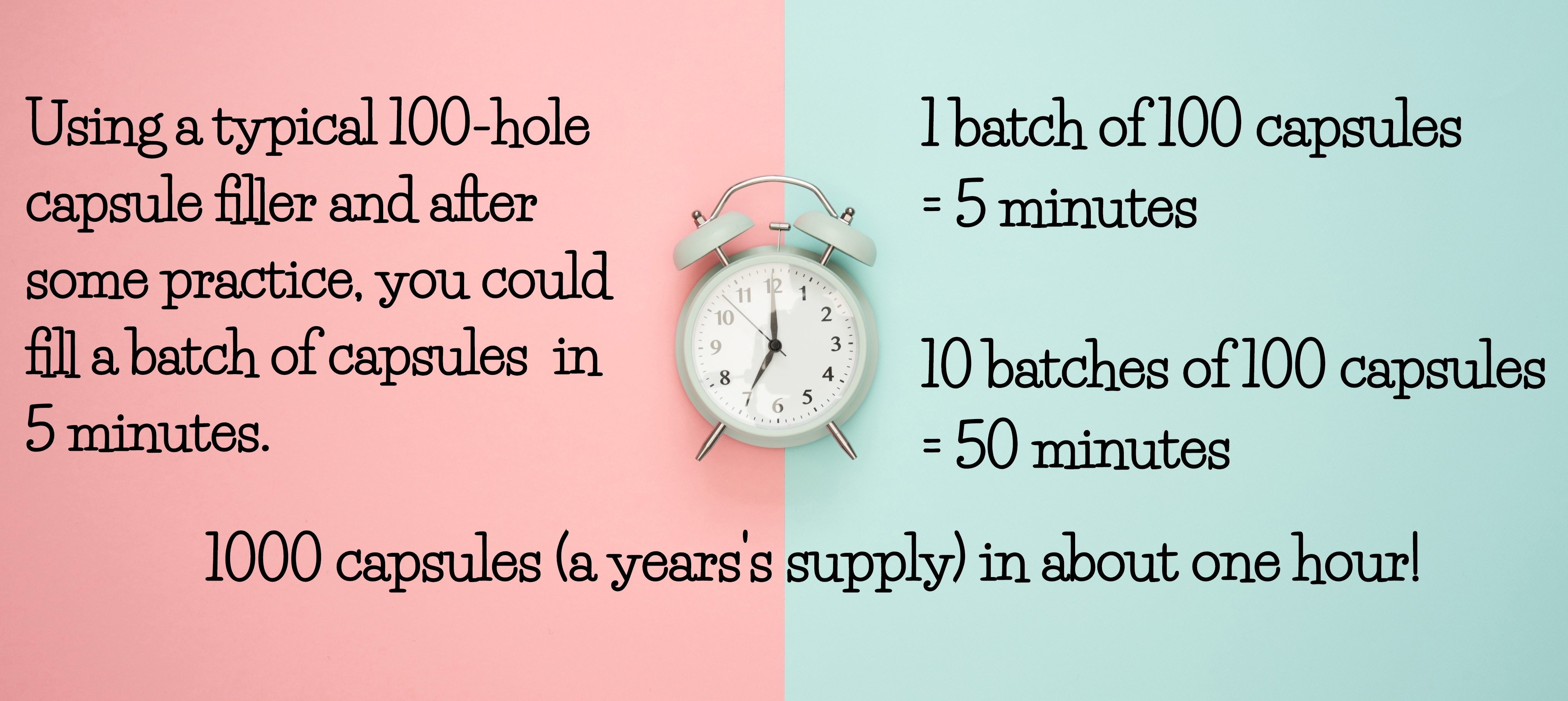 Many of the new generation capsule fillers that you can find on Amazon let you fill 100 capsules at a time.  When you've gotten comfortable with the machine, you will be able to do a batch 5 minutes.  In an hour you could have all the capsule filling said and done.  A year's supply!
The more manual filler types, like The Capsule Machine or the Cap M Quik, would take you about 2 hours, but that's if you wanted to do all 1000 caps in one sitting.
You will also have to set aside a few minutes to blend the powders.  That is best accomplished using a large ziplock bag.  Carefully seal the powders in the bag, leave air the bag when you zip it.  Then carefully roll the bag around until it the powder is blended.  Be sure to hold on to the zipper top while rolling to avoid it accidentally opening.  If you don't have a big enough bag or container, you could mix it in a bowl, but it will be dusty and it's probably best done outdoors.
The Savings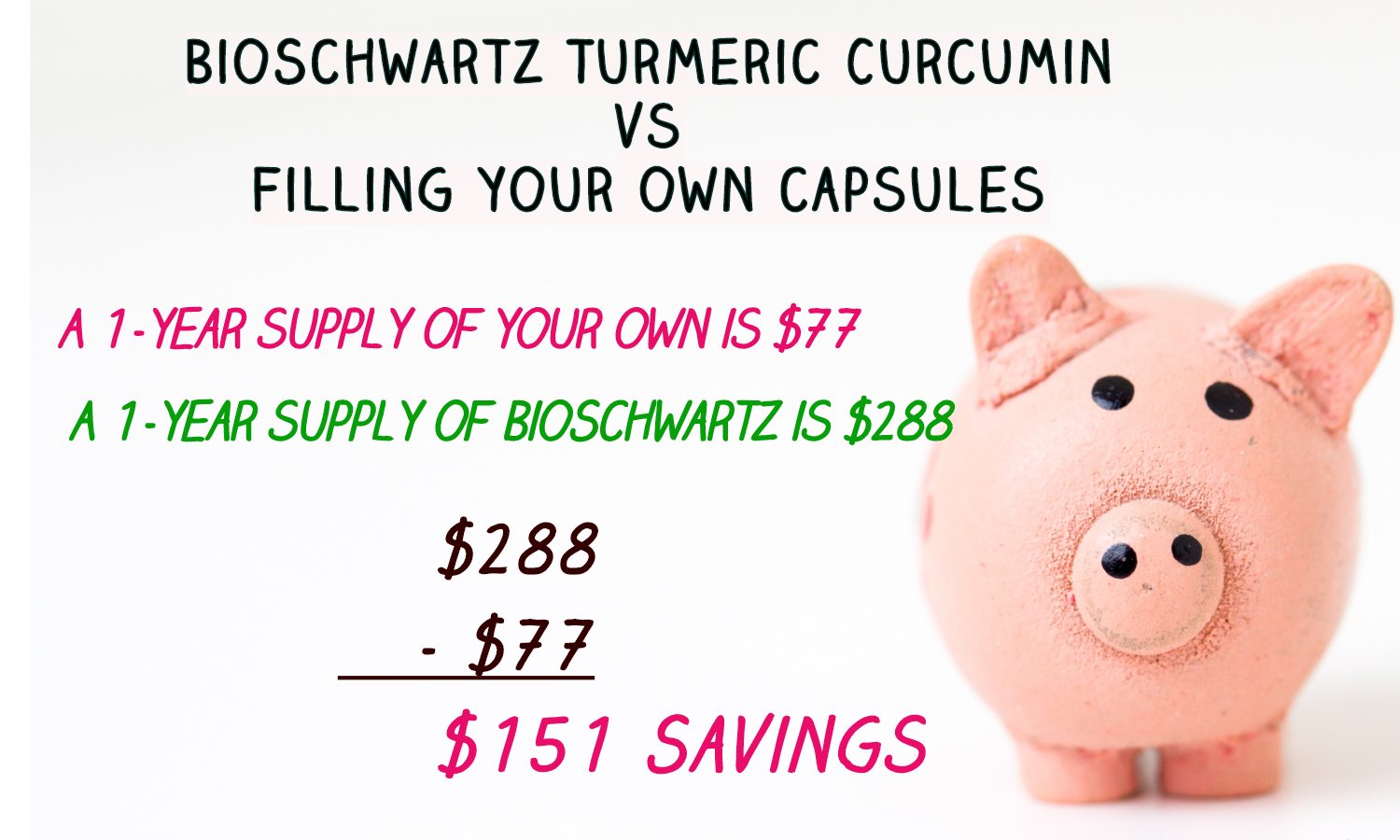 This copycat recipe is calculated for 1000 capsules.  A one-year supply of BioSchwartz, 3 caps a day, equals 1095 caps.  I've found Amazon's price of $18.89 a bottle to be very good, with the average price being $23 a bottle on the web.
A year's supply of BioSchwartz Turmeric Curcumin would cost you ($19 x 12 months) $228.00.  Filling your own caps, $77.  That's a $151 in savings!

Don't Be Afraid
First time capsule filling can be messy and daunting, but don't let that deter you.   You will get comfortable with it in no time.  Watch a YouTube video for guidance, there's lots of them there.  Good luck & Enjoy!