Don't have a capsule filling machine?  No problem.
Whether you need to fill a few capsules for a one-time dosing or you need a week's worth, filling capsules by hand just might be your best solution.  There's no need for a big mess or a machine, with these 5 simple techniques.
Just Have a Few Capsules to Fill?
Filling empty gelatin or veggie capsules can be quick, easy, and neat.   The trick is using the technique that works best with the particular powder you are using.  Some powders are more dense than others, some pour easily, some clump together with pressure.  You can choose which method will work best for you.
It's nice and easy when you can just press your open capsule into the powder and it packs in nicely, shown here with the spoon method.  This method works best with a shallow, concave small bowl or spoon.  The less powder you have, the smaller the container should be, so that you can press the capsule to the bottom.  If the powder is too deep, you don't get the resistance needed to pack the powder deep into the capsule.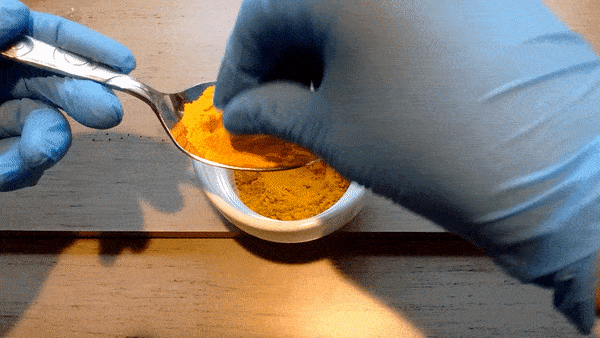 Unfortunately, not all powders are dense enough to pack and hold in a capsule.  In the next image, you can see the contrast of how turmeric stays put and garlic powder falls right out of the capsule.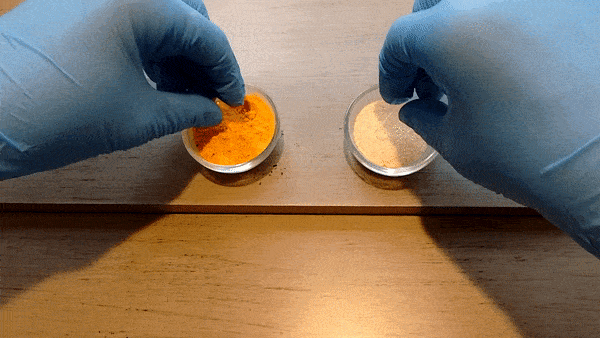 For this reason, many people recommend the scoop and push method.  That's when you dip both ends of the capsule into a pile of powder and connect them there.  It doesn't matter if the powder packs well or not, it works.   I actually prefer to dip only the large end of the capsule in.  Dipping both ends creates an over-filled capsule that is harder to close.  If you have a large amount of powder, you can fill dozens of capsules very quickly with this technique.  One caveat, if your powder is slippery, it makes holding onto the capsules difficult.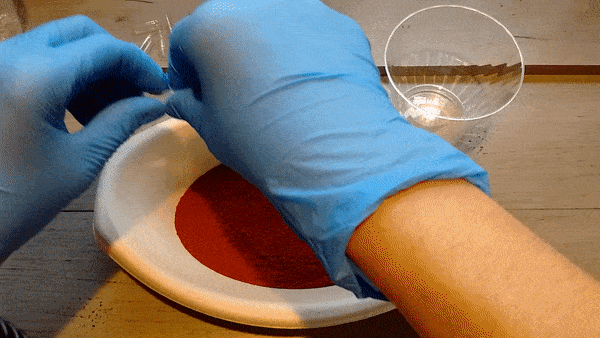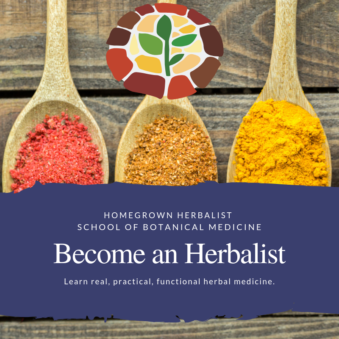 When you have a light powder that's difficult to work with, there are a few methods you can try.  If you just happen to have a small tipped lab scoop, you can try the scoop method.  For ultra fluffy and fly-away type powders, this method is ideal.  You simply dip the tip of the scoop into the powder to pick it up and then pour it into your empty capsule.
You could try making a lab scoop, it's easy.
(note: I used a plastic deli container lid)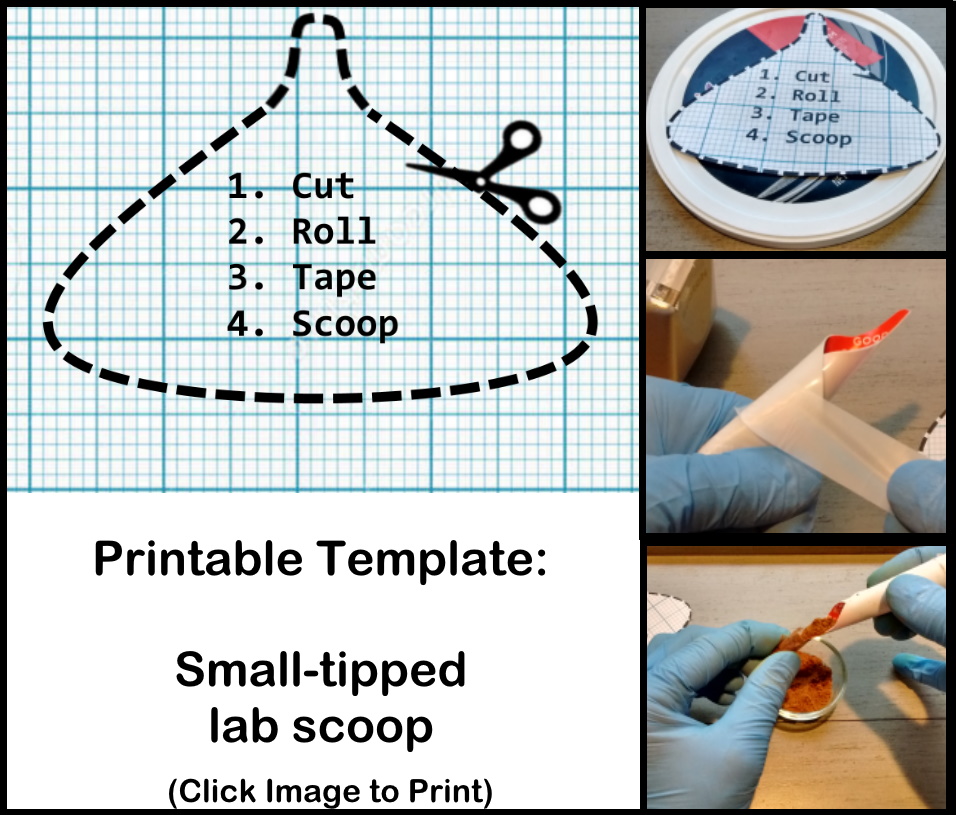 There's also the piece of paper method.  Simply use a post-it note, index or business card.  Fold it in half and use it as a chute.  If cross-contamination prevention procedures are necessary, you can use pharmacy grade non-absorbing gloss weighing paper, available on Amazon.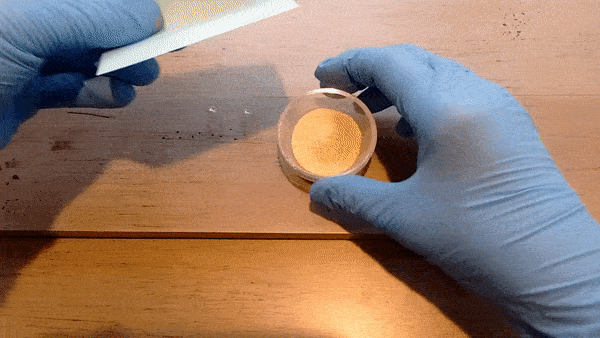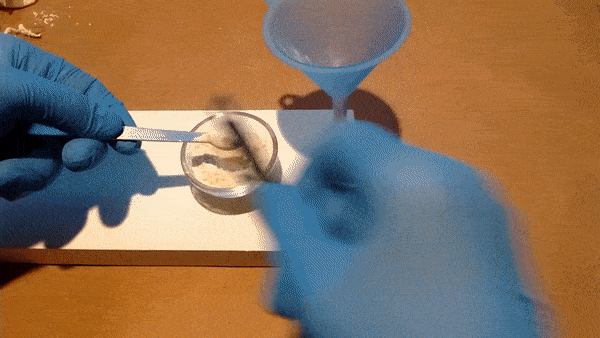 To hold your capsules in place, like in the above image, you can make your own out of a piece of scrap wood and a drill or purchase them here on our website.  
Our Capsule Filling Products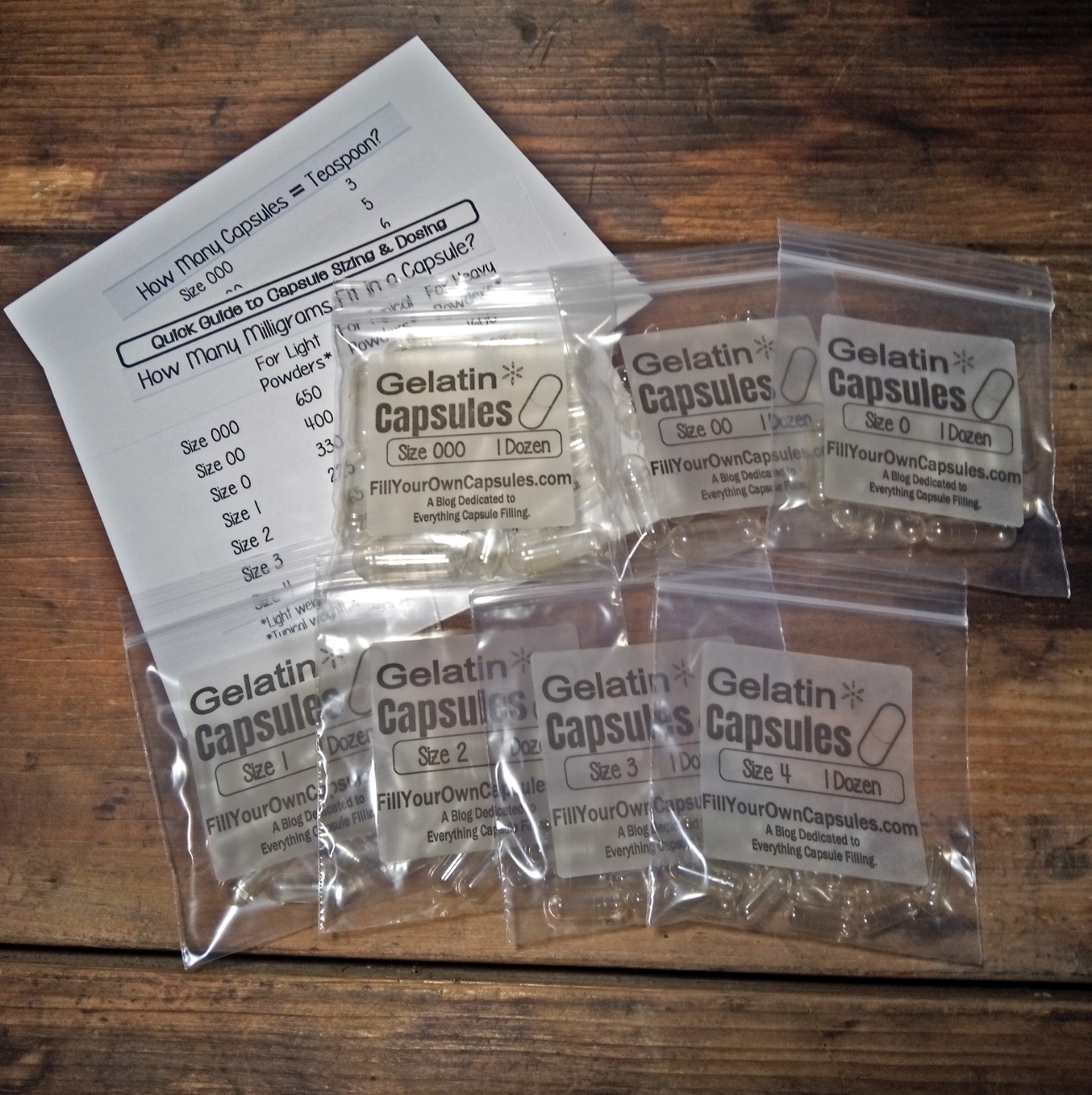 Gel Cap Variety Pack
7 Sizes - One Dozen of Each, $16 (free shipping)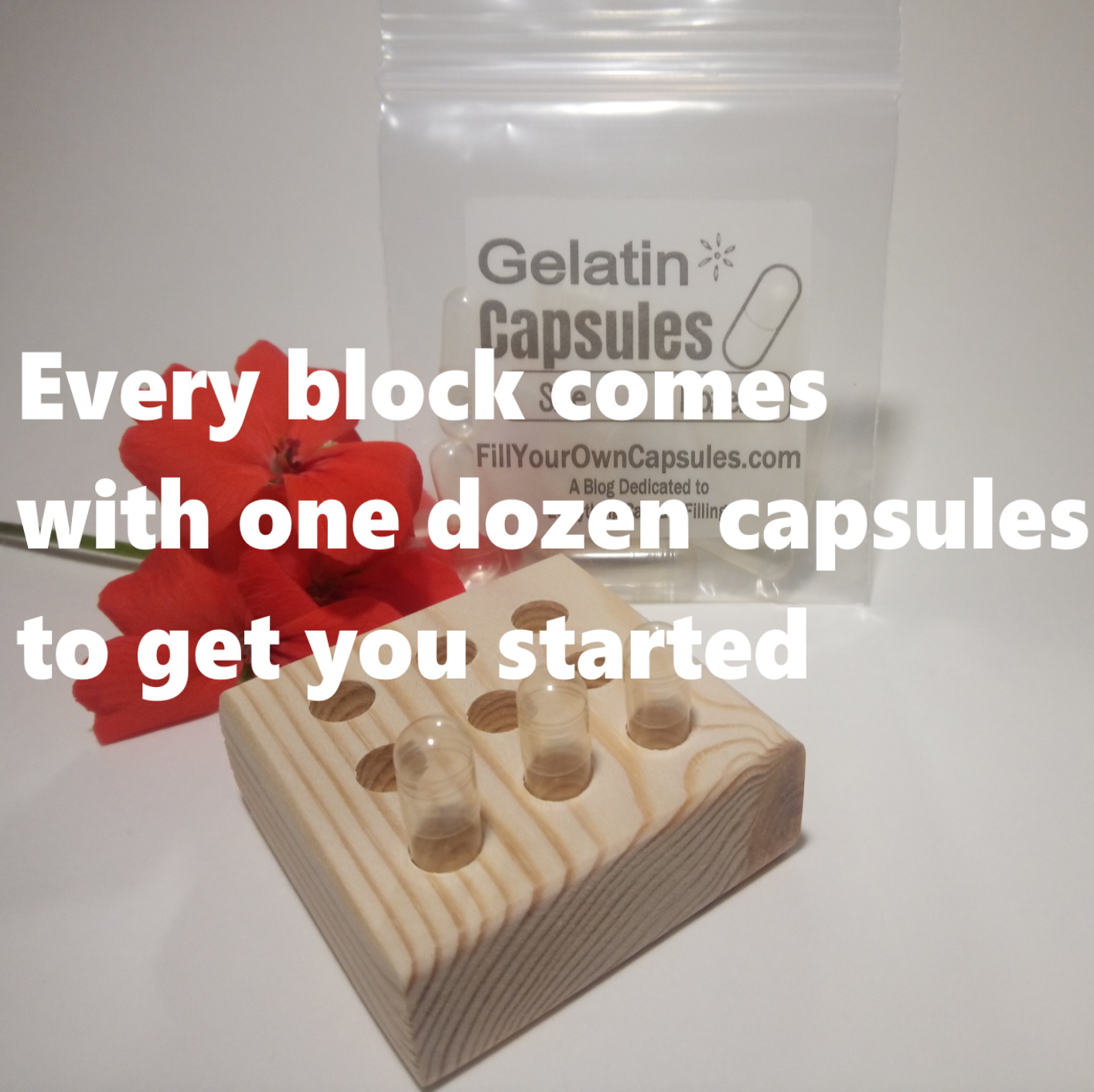 9-Hole Filling Tray
Available in all sizes, $15 (free shipping)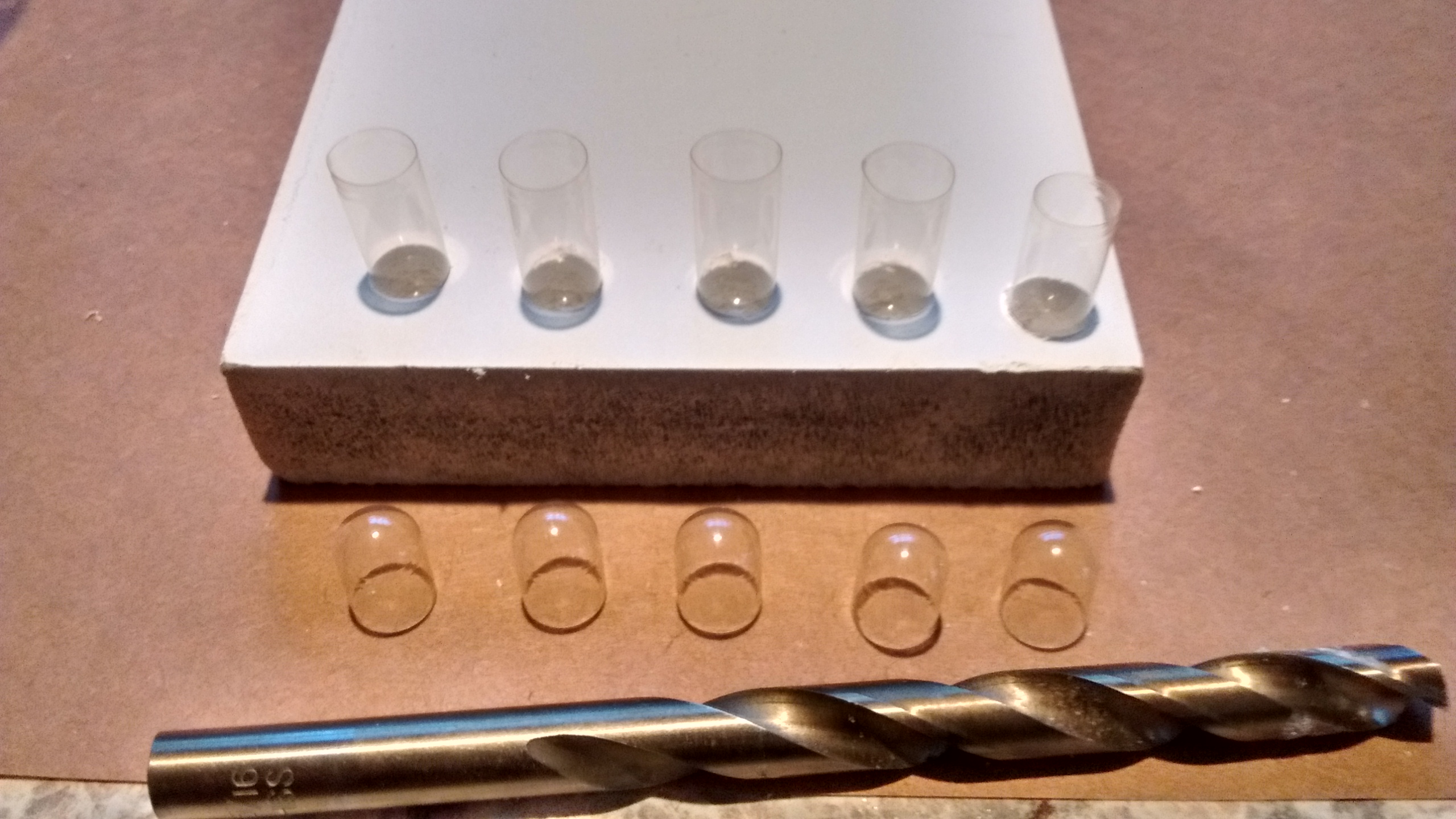 A drill bit size of 5/16″ works well for size 1, 0, and 00 capsules.  Use a 3/8″ drill bit for size 000.  For the smaller capsules, drill only 5 mm. deep, for the large capsules, you can go 1/4″ deep.  Use masking tape on your drill bit for depth guidance.  You may need a little sandpaper to clean it up the hole edges when you're done.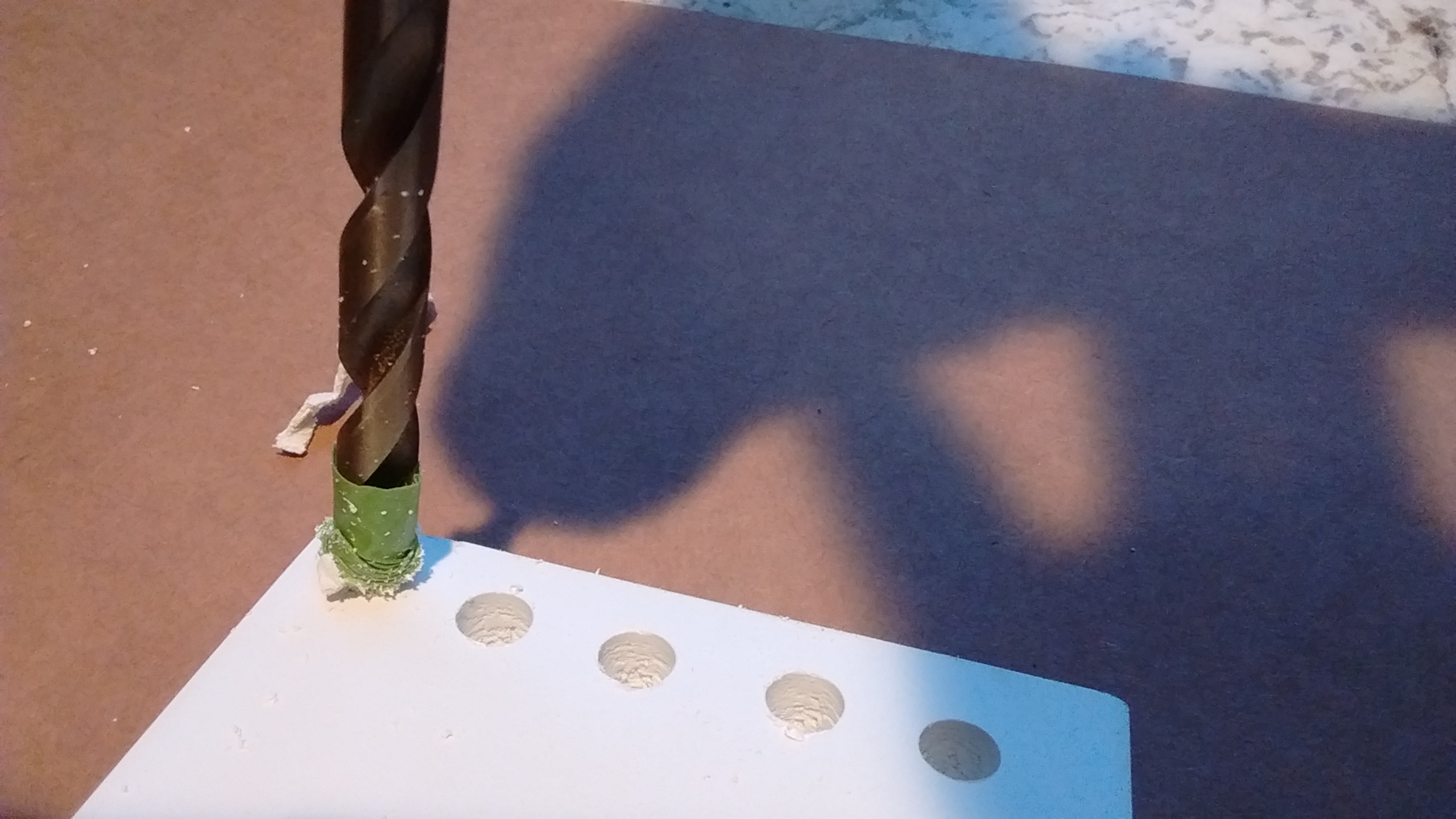 What size capsule should you get?
Seven capsule sizes are readily available on Amazon.  The smallest is a size 4, the largest is a size 000 and they are usually sold in bags of 500 or 1000.  If you're not sure which size you need, you can purchase a super handy variety pack.  It contains a dozen or more of each popular size, 4, 3, 2, 1, 0, 00, and 000,  Check it out HERE on Amazon.  For more detailed capsule selection information, see our blog post Choosing the Right Capsule for Your Filling Needs.
Have More Than a Few Dozen Capsules to Fill?
You might want to consider heading on over to Herb Affair and get yourself a capsule filling machine.  With their premier product, the Capsule-It, you can fill 100 capsules in 8 minutes or less.  There's video evidence to prove it, just look at their terrific reviews.  If you don't need to fill that many, that fast, they also offer two other brands, the Capsule Machine and the Cap-M-Quik.
I might also add, that you can trust the integrity of this small business.  I've known the owner, Derek, for years.  He's a stand up guy, with a wonderful customer following.